We understand your Housing Authority's dedication to ensuring a safe environment for both residents and staff. For this reason and others, screening potential tenants for criminal history is a critical step in the housing application process. In addition to safety precautions, it is imperative to make sure that the tenant in question is able to take on the financial responsibilities associated with the property. Housing agencies need to be able to secure trustworthy credit checks and financial reporting to successfully match tenants with appropriate units.
Horizon software features integration with ONLINE Rental Exchange that brings our users the most accurate tenant background information available. As a leading developer of tenant screening solutions and debt recovery tools for the property management industry, ONLINE has decades of credit reporting and collections experience.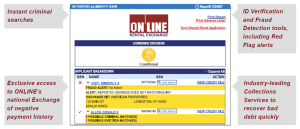 Fully integrated within your Horizon software, the ONLINE Rental Exchange is available instantly. These searches ensure your existing tenants' safety through customizable reports that range from full criminal histories to those that include filters to meet your specific needs. Users no longer need to leave their Horizon software to see results. Reports are immediately attached to records within Horizon and viewable by all staff with access.
Click here for a full list of reports and features.
With ONLINE's criminal searches, you'll have the peace of mind that your property managers are conducting the appropriate due diligence on each applicant. If you are not yet taking advantage of Horizon integrated with ONLINE Rental Exchange, or if you would like to receive more information, contact our team today.